God's blessings is hearing and obeying His voice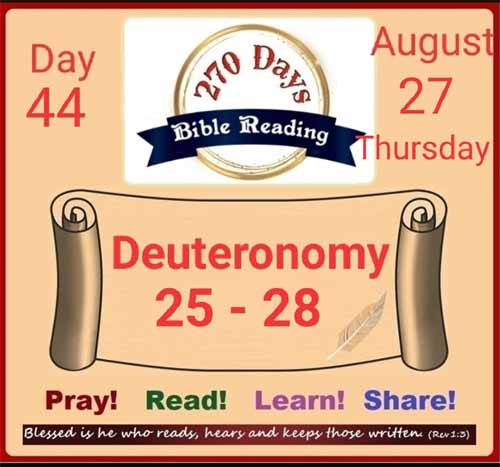 Day 44
🌺🌺🌺🌺🌺🌺🌺
Deuteronomy 28:12 :- "The Lord will open the heavens, the storehouse of his bounty, to send rain on your land in season and to bless all the work of your hands."
This chapter is a long chapter, which describes the blessing of obedience to God and the curses that come from disobeying God.
Here, Moses reveals twice that the key to God's blessings is hearing and obeying His voice.
Most of us don't like the word "obey"; we may think that it is a demanding word.
But the word "obey" in the Old Testament is 'sama', which means "to hear."
When God asks us "to hear," He wants us to understand and respond.
So.. Obedience is a response. It's hearing, grasping what God wants us to do, and acting on it.
When we choose to obey the Lord, He will bless us. This is because obedience always leads to blessing.
God decided to bless us before He created us.
Every day, we have important decisions to make. If we make the right choices, we will be blessed.
But if we make the wrong choices, we will suffer the consequences and fail to receive God's blessings.
So How can we obey God?
Commit our life to God.
Honour God with our decisions and actions .
Fill our life with His Word by reading the Bible every day.
Pray and carefully listen to the leading of the Spirit.
So dear ones, when God blesses us abundantly, never forget to flip the blessing to others.
God has blessed us with unlimited resources.
Today we can use many forms of sophisticated technology to spread the gospel.
So be blessed to be a blessing for others.
Jooley Mathew Z
🌺🌺🌺🌺🌺🌺🌺